Will it dissolve?
A downloadable game for Windows and Linux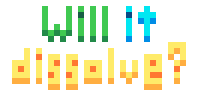 Is a small puzzle game where you have to prepare the level so that it will automatically convert and dissolve in the future.



Gameplay
Use the mouse to mark the tiles with the desired action (+1 or -1).
The number of actions available are marked with these symbols

The conversion and dissolution is performed in the following sequence:
perform actions
controls whether there are three or more equal numbers horizontally or vertically. If Yes the number is reduced by one together.
Tiles with the value 0 disappear
point 2 is repeated
The level is considered fulfilled when all tiles have disappeared.
Special rules
manually reduced by one becomes a .
enlarged by one becomes .

Controls
left mouse-button -> marks the tile with +1 action
right mouse.button -> marks the tile with -1 action



Tools
Download
Click download now to get access to the following files:
will_it_dissolve-v0.2.0-win_64.zip
2 MB
will_it_dissolve-v0.1.0-x86_64.rpm
2 MB
will_it_dissolve-v0.1.0-amd64.deb
2 MB
will_it_dissolve-(JAM)-win_64.7z
2 MB
will_it_dissolve-(JAM)-amd64.deb
2 MB
will_it_dissolve-(JAM)-x86_64.rpm
2 MB