Vollmond
There is not much time left until the full moon has reached its full size.
Search for 4 special ingredients to brew the "Moonshot" potion.
Will you succeed?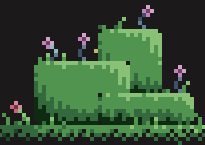 A small non violent adventure in the style of Zelda 2.

Was created in the programming language Rust with the help of the Macroquad Game Engine.
The game was made explicit for the Game-Off 2020 Jam
and is also my first web game with Rust and with this engine.
Have fun trying out.



Font: GothicPixels by LingDongHuang
Graphic: modified version of deep-night by V3x3d
Music: barons music pack